Archived (not relevant)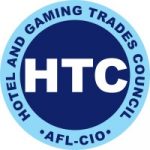 Staff Writer #COMM#
Who we are:
HTC is the union of hotel and gaming workers in New York and New Jersey. We are widely recognized as the most powerful union in this industry in the world, with the best contracts. Our largely immigrant membership enjoys a middle class lifestyle that is unheard of in an industry where workers are generally exploited and living in poverty. The children of our members have the opportunity to go to college and become professionals because of their parents' hard work.
Unlike most unions, our membership is expanding, and in the last ten years our membership has grown from 25,000 to over 40,000. In state and local politics, we are famous for our clout and for "punching above our weight." That's because our membership loves their union and actively volunteers more than most union members. This is largely due to the fact that we are very serious about having an excellent, talented staff.
If you want to fight for and win social justice, this is the best place to do it.
The Role:
We're looking to hire a creative, passionate, and talented writer to join our Communications Department. Each day as a Staff Writer at our Union is exciting, challenging, and incredibly dynamic. Staff writers attend and cover union events including rallies, picket lines, political events, membership meetings, and certain union-management negotiations. They pitch, research, write, and edit stories about organizing and political victories, changes in the hotel and gaming industries, union contracts and benefits, and news events affecting our membership. They interview members and non-union workers in order to develop articles and content for video projects, collaborate with our IT team designing features on our website, publish our quarterly print magazine, The Hotel Voice, and work on tools to assist during external organizing drives - highly secretive and strategic campaigns to bring non-union workers into our Union.
Required Qualifications:
•Ability to write persuasively, clearly, and concisely
•Capacity to synthesize and communicate complex information in a manner that's easily understood
•Ability to motivate and inspire others
•Ability to communicate respectfully and comfortably with people from diverse backgrounds
•Demonstrated commitment to social justice
•Thorough attention to details and accuracy
•Ability to multitask, work efficiently, be well organized and reliable
•Resourcefulness and talent for problem-solving
•Desire and ability to learn quickly and grow into positions of greater responsibility
•Persistence and determination
•Loyal to the organization, with a sense of integrity
•Good judgment
Extra consideration will be given for ANY of the following qualifications:
•Bilingual (in addition to English), especially in Spanish, Cantonese, Mandarin, Vietnamese, Russian, Polish or Bengali
•Proficiency in the Adobe Suite including Adobe Photoshop, Lightroom, InDesign, and Premiere
•Talent for photography and/or videography
•Experience working in the hotel, restaurant, hospitality, or other service industries
Salary: $55,000 - $58,000
Benefits:
Medical, Dental, Optical, and Prescription Drugs with family coverage (including domestic partners), Pension, 401(k), Pre-paid Legal, Flexible Spending Accounts, Life Cycle Benefits, Long-Term Care Insurance, and other benefits.
How to Apply:
Please submit your 1) resume, 2) cover letter, and 3) work sample to careers@nyhtc.org with the subject line "Staff Writer #COMM#". The cover letter should be clear and concise and explain the specific reasons for your interest in the position, and specify (with appropriate explanation) which of each of the listed qualifications you possess and which ones you do not possess. The work sample can be fiction or non-fiction and does not need to relate to the labor movement. Please send along something that your proud of that showcases your best writing!
The Hotel and Gaming Trades Council, AFL-CIO, is an equal opportunity employer. All persons regardless of age, race, ethnicity, gender identity, religious affiliation and sexual orientation are encouraged to apply.