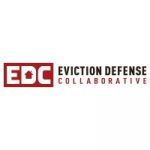 Staff Attorney (Landlord Tenant Law)
Eviction Defense Collaborative (EDC) is the only legal services organization in San Francisco solely focused on eviction prevention. EDC's goal is to prevent displacement, stabilize communities, and ensure housing equity in San Francisco. We offer legal services in response to an eviction, tenant rights education, rental assistance, and advocacy for clients residing in city shelters, all under one organizational umbrella.
At present, due to the COVID-19 pandemic, and until further notice, EDC is operating in a hybrid fashion, with some remote work and some onsite work. EDC's In Office COVID-19 Safety Plan adheres to the CDC's health and safety guidelines and the federal and state OSHA requirements for workplace safety.
*Proof of vaccination required*
JOB PURPOSE
The Litigation Staff Attorney (Attorney) will provide full scope representation to tenants in eviction matters. Because we strive to be barrier-free and client-centered, the position requires individuals who truly enjoy working with people; have the skills and capacity to respond in an empathetic and respectful way to clients who are often in crisis; and can work effectively in a collegial and fast paced environment.
QUALIFICATIONS
First and foremost, the applicant must profoundly share EDC's mission and vision of social justice and be able to manage stressful situations with empathy and calm. Below are additional qualifications.
In good standing with the California Bar (we will consider those waiting for pending bar results).
Proficient to intermediate skills with Microsoft Office Suite, Google Suite and other common computer programs. Database management a plus (Salesforce).
Excellent customer service skills (professional demeanor, sound judgment, communication, de-escalation, client-management, etc.) and proven ability to handle confidential information with discretion.
Strong legal analysis and legal writing skills.
Possess ability to make quick decisions and exercise good judgment.
Possess ability to work on several projects simultaneously and handle a high volume of activity and be able to work efficiently and effectively under pressure.
Have excellent written and oral communication skills.
Facility in Cantonese, Mandarin, Spanish, Tagalog, Russian or other second language a plus.
Must be comfortable working in community settings.
Willingness to work collaboratively, but with the capacity to work independently.
Landlord Tenant Law a plus
Duties and responsibilities
Legal Services Duties (90%)
Provide full scope representation to tenants in eviction matters including:
Preparing responsive pleadings, discovery, and motions;
Advocating for tenants and negotiating on their behalf with landlords and landlords' attorney in unlawful detainer (eviction) actions;
Representing tenants at court hearings, settlement conferences, and trials.
Work collaboratively with colleagues across the organization and within the respective department.
Provide support for volunteer attorneys and attorneys at other legal services organizations representing tenants.
Work with attorneys and other EDC staff to train and supervise volunteers and interns.
Conduct training and other outreach as needed to other non-profit and community-based agencies.
Administrative Duties (10%)
Attend weekly program meetings, monthly agency staff meetings, and relevant supervision meetings.
Enter all data on time and correctly to support program evaluation and outcomes tracking.
Represent EDC at community meetings/events as required.
Perform other duties as assigned in furtherance of EDC's mission
Provide support for volunteer attorneys and attorneys at other legal services organizations representing tenants.
COMPENSATION
Your salary depends on years of experience. Starting salary for the position is $75,000 - plus. This is a non-exempt, full-time position (Monday –Friday 9:00am - 5:00pm).
We offer a highly competitive benefits package which includes:
100% Employer paid medical (base plan), dental, vision, LTD & STD coverage. You will also qualify for an employer contributed 401(k) account, one hour paid lunch daily, commuter benefits, bike reimbursements, and a FSA dependent care account. In year one, you will be entitled to 15 days of paid vacation, 12 paid sick days and 14 paid holidays. EDC will also provide employees with a new and modern office space
To apply for this job please visit LinkedIn.