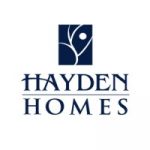 Staff Accountant
Job Title:
Staff Accountant
Company:
Hayden Homes
Location:
Redmond, Oregon | On-Site
Career Area:
Accounting
Education:
Bachelor's degree in accounting, finance or related field required.
Experience:
Minimum of 2 years relevant accounting experience required.
Join one of the Best Companies to Work for in Oregon, Washington and Idaho!

How You Will Contribute:


As a Hayden Homes
Staff Accountant
, you will be responsible for working collaboratively across all departments of the company to ensure timely and accurate issuance of all financial reporting.
Responsibilities Include:

Financial Reporting: Prepares and presents monthly regional financial statement packages accompanied with in-depth analysis. Assists with the preparation of combined financial statement packages and analysis, performs ad hoc analysis, and updates financial statements after review.
Daily and Monthly Accounting Tasks: Performs necessary month-end journal entries and reconciliations to prepare the companies' GLs for month-end close. Provides analysis and delivers results to regional leadership teams.
Annual and Quarterly Accounting Tasks: Works collaboratively with the accounting team to complete the companies' recurring annual and quarterly projects, including assisting with annual financial statement audit and tax preparation.


How You Will Succeed:


You are capable of driving results through effective communication. You manage your time through planning and priority setting and hold yourself accountable for producing quality work within tight timeframes. You enjoy building relationships and collaborating with the team. You are able to keep your focus for an extended period of time and seek out information using analytical thinking to get the job done.
What You Can Offer:
Specialized knowledge

Knowledge of Generally Accepted Accounting Principles (GAAP)

Skills

Proficiency in Microsoft Office software, particularly Excel.

Abilities

Ability to communicate effectively, both verbal and written to various audiences.
Ability to creatively solve problems and work under time constraints with minimal supervision.
Ability to work with team members to produce quality work while managing multiple priorities simultaneously.
Exceptional organizational abilities and strong attention to detail.

Experience

Minimum of two years of progressive, relevant accounting experience is required.
Experience in construction accounting is strongly desired.

How You Will Be Rewarded:


Hayden Homes' compensation and benefits package consists of a competitive base salary along with quarterly bonus opportunities, generous health care coverage including medical, dental and vision benefits for team members and dependents, flexible spending accounts, life and disability insurance, 401(k) plan with
$10,000
company match, a team member home purchase discount of 15% up to
$45,000
, accrued paid time off beginning at 3 weeks annually, 16 hours of volunteer time off, education reimbursement and career development opportunities.
#hayd