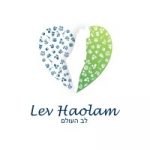 Sales Representative (US Market)
Lev Haolam is an Israel-based social enterprise that supports Israeli family businesses throughout the country.
We are creating and promoting the opportunity to support Jewish pioneers and local family businesses in Israel through our Surprise Monthly Package Project. Our members receive monthly packages filled with unique products created by Israeli family businesses.
The company is the largest subscription service in Israel, shipping products worldwide.
Who we are looking for:
We are looking for a Sales Representative (Remote), with experience in the US B2C market, who will be responsible for customer acquisition and retention, finding out our customers' main motives and needs for the purchase.
Candidate for this role will be making outbound calls to our customers daily from our current database, create and adjust scripts to ensure conversion to sales.
Our customers are baby boomers and generation X people all over the world with connections to Israel and/or religion, willing to support development of Israel and help local businesses suffering from BDS movement.
You must be comfortable making dozens of calls per day, have a strong desire to get deep understanding our customers's needs, and willing to continuously improve sales process.
Responsibilities:
Make outbound calls to existing customers who know and are interested in our product, no cold-calling;
Participate in developing sales scripts, adjust sales script to better target the needs and interests of specific individuals;
Contribute to reaching strategic sales goals;
Research customer needs and present options for improving communication together with marketing team
Search for new sales approaches and channels;
Provide periodical reports on achieved results (Excel or CRM-based)
Our ideal candidate:
2+ years of relevant B2C sales sales experience
English native or bilingual, Russian is a plus
Understanding how to approach to our customers, who are mainly religious both christian and jewish
High level of empathy (active listening, candidate can hear and attract the customer)
Experience developing sales scripts
Able to analyze conversations and adjust scripts accordingly to convert into sales
Has ideal understanding of each stage of sales cycle and follows them
Will be able to work in EST time zone (8 am to 8 pm, flexible)
What we offer:
Fully remote, flexible schedule;
Hourly rate + performance based commission;
The opportunity to grow and improve your skills;
3 month's contract with opportunity to grow to full-time Head of Sales based on performance;
Result-oriented team.
To apply for this job please visit LinkedIn.