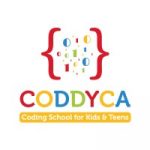 Sales Manager
CODDYCA is a Canadian coding school that empowers kids aged 6 to 16 with coding skills using Scratch, Minecraft, Roblox, Python, JavaScript, and Unity. As a proud Canadian institution, we offer students a cash stipend for their achievements in class.
We are currently seeking a Sales Manager to join our dynamic team. This is a remote position, allowing you to work from anywhere in Canada.
Responsibilities:
- Develop effective sales and marketing strategies for both local and nationwide sales.
- Manage sales funnels across various channels.
- Drive lead generation efforts and oversee the entire lead process.
- Handle client inquiries and address any concerns or objections.
- Maintain accurate client and payment records in our CRM system.
Qualifications:
- Proficiency in modern and effective sales techniques.
- Over five years of sales experience.
- In-depth knowledge of CRM systems.
- Familiarity with sales acceleration, analytics, intelligence, and prospecting.
- Authorization to work in Canada.
In addition to the above requirements, we are specifically seeking a Sales Manager who is fluent in English, Ukrainian, and Russian.
Join CODDYCA and contribute to shaping the future of coding education for children while driving sales growth.
To apply for this job please visit LinkedIn.