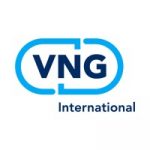 Project Manager Ukraine
General information
VNG International is the international cooperation organisation of the Association of Netherlands Municipalities. Our mission is to develop strong and democratic local government worldwide. European and international cooperation between local governments is explicitly part of our field of activity. VNG International is an organisation that provides international services to the public sector mostly on behalf of the European Commission, Dutch ministries, World Bank, and other national and multilateral institutions. VNG International has an annual turnover of over €38 million. It has its headquarters in The Hague with 60 employees. To carry out the work within the projects and programmes (on location), we make use of a large network of experts in relevant fields. VNG International's projects increasingly take place in fragile areas or in areas affected by conflict or disasters.
Our work can be divided into the following activities:
Acquisition and management of international projects commissioned by the Dutch Ministry of Foreign Affairs, the EC and the World Bank to strengthen local governance worldwide.
Supporting Dutch municipalities in developing their European and international policies, and how to make best use of European funds and knowledge networks.
Representation of the Association of Netherlands Municipalities in international local government associations.
VNG International is looking for an experienced:
Project Manager Ukraine, working within the team 'Europe, Asia and Latin America'
Job description
The project manager is responsible for business development and expanding our project portfolio in Ukraine and independently acquiring and implementing international projects in Ukraine and the wider Europe, Asia and Latin America. He/she coordinates and distributes the work within project teams and directs the deployment of international and local experts in the target countries. The project manager is responsible for the account management for one or several countries and knows how to build a project portfolio there.
Specifically, we are looking for a project manager with the following main tasks.
Based on our current project portfolio, effectively expand VNG International's presence in Ukraine, with knowledge and awareness of donor/funding opportunities, trends, relevant partners.
Account management towards donors and partners.
Implement (and acquire) other projects in the Europe, Asia, Latin America region.
For this position, we select based on the following competences: good environmental sensitivity, strong persuasiveness, commercial skills, excellent organisation and planning skills, strong management skills, a keen eye for progress control, showing initiative, and strong negotiation skills.
Naturally, maintaining constructive contacts (relationship management) with project partners and clients, strategically deploying communication tools, managing and motivating project teams, monitoring financial scope and joint judgment are important aspects of project leadership. Travelling to countries in the target region is part of the job.
Profile of the ideal candidate
We are looking for someone with:
Demonstrable experience with and interest in Ukraine;
Knowledge of EU Eastern Partnership policy and EU integration process;
Demonstrable experience with acquisition of international projects with (bi- and multilateral) donors, specifically USAID and EU;
Demonstrated commercial attitude with good networking skills;
Affinity with or knowledge of (Dutch) local government and current developments in this field;
Affinity with or knowledge of development processes and the role of local governments within them;
Interest to work in the wider Europe, Asia and Latin America region;
Stress-resistent and decisive;
Team player and experienced in managing internal teams and on-site project teams;
Business-minded with an affinity for financial and administrative project management;
Work experience: at least 5 years of relevant experience as project manager in a similar complex environment;
Academic qualifications: Master's Degree in a relevant field such as public administration, political science, conflict studies or international relations;
Fluency in English, has working knowledge of Ukrainian and/or Russian. Knowledge of Dutch is a plus;
This position is open to EU residents only.
Employment conditions
24 holidays, 7 ADV days;
Flexible working hours, possibility of partially working from home;
The scales associated with this position are scale 9 (starting at €3,418 gross), 10 and 11 (maximum €5,649 gross). Actual scaling will be depending on relevant experience/background and salary balances within the team.
Additional benefits: end of year payment 4,6% fixed & 3,6% result-related, profit share, corporate bonus scheme;
Reimbursement of travel expenses or use of NS Business Card for commuting;
Health insurance offer at attractive group discounts;
ABP pension scheme (employer contribution approx. 70%).
Apply for this vacancy (with motivation letter and resume) through this link until May 14th at the latest.
For questions, please contact: Anouk de Boer, HR Business Partner: 06 2296 1472