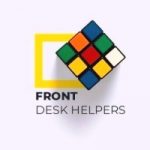 Personal Assistant
Weare Front Desk Helpers— USAIT company, working asaremote support office with various services. Currently, weare looking for aremote Personal Assistant tosupport the CEO ofthe clinic inNew York. Below, you can find more details about the responsibilities and our desired requirements.
Requirements:
English language - Upper-Intermediate/Advanced and Russian - Native
Proactive and enthusiastic about delivering positive results
Experience in HR will be an advantage
Experience as PA or administrative positions
Problem-solving and decision-making skills
Maintain strong ethical & business standards during the work process
Ethernet (LAN) connection and your own computer/laptop
Persistence and meticulous approach to each task
Active listening and good communication skills
Familiarities with current technologies, like desktop sharing, cloud services, and VoIP
Experience with word-processing software and spreadsheets (e.g., MS Office)
Knowledge of online calendars and scheduling (e.g., Google Calendar/Outlook)
Excellent phone, email, and instant messaging communication skills
Responsibilities:
Manage and maintain calendars, contacts, and travel arrangements
Assist with reports and arrangements of information
Assist in research & recruiting of potential employees for the clinic
Manage calendar and appointment scheduling
Read and write correspondence
Research, gather, and organize data for analysis
Prepare presentations according to the instructions given
Schedule:
Mon-Fri 9 am-5 pm according to New York time zone. Sat, Sun day off.
What do we offer:
We provide training which is paid 4$ per hour, and after start 6$ per hour (per month it comes to around 170 hours).
We provide our employees with an IP phone as the instrument to connect to USA customers as well as all the necessary software (CRM, virtual fax machine, SMS service, VPN)
Training will be provided on the standards and requirements of the company
Training on how to work with specific software
Ability to work remotely
Paid vacation after one year of employment
Open-minded management, who are easy to contact
To apply for this job please visit LinkedIn.