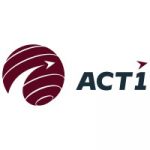 Operations Administrative & Travel Specialist
Introduction


Ready to take ACTION in your career? Ready to launch your future forward with an organization certified as a Great Place to Work™? ACT1 Federal is seeking an Operations Administrative & Travel Specialist in Washington, DC
ACT1 Federal is all about taking bold, innovative actions to deliver for our customers and our workforce. Every day, members of the ACT1 Federal team drive creative solutions on the most challenging problems facing customers across the Aviation, Space / Intelligence, and International Cooperation portfolios.
Overview / Job Responsibilities


As an Operations Administrative & Travel Specialist, supporting the NESA Center, you will be responsible for optimizing daily activities and performance and to service all aspects of corporate travel as well as assist in events management.
In This Role, a Typical Day Will Include

Organizing travel coordination and tasking by event.
Serving as the agent to input all contract costs by program into RCPAMS database.
Understanding and monitoring annual program plans calendar, quarterly performance reviews, for ongoing updates communication with the NESA teams.
Maintaining, and updating SharePoint programs planning workflow trackers with provided program planning status and updates, escalate challenges, and concerns to the contract manager.
Engaging regularly and updating program plan calendar and other platforms online after it is approved by NESA Center.
Ensuring adherence to NESA program planning standards, processes, and utilization of systems and tools to provide for reviews, bi-monthly program calendar reports.
Participating in planning calls for programs to identify Travel support needs and resources required.

Minimum Qualifications

WHAT YOU'LL NEED:

University (BA/BS) in business, program management, project management, non-profit studies, or related field.
Five or more years of experience program travel coordination and planning domestic and international events throughout the NESA region. Experience working in a multi-cultural environment and interacting professionally and diplomatically from the NESA region is required
Microsoft Office 0365, SharePoint, RCPAMS, ZoomGov, and working knowledge of Power BI.
Must be familiar and comfortable to navigate in RCPAMS, (Regional Center Persons Activity Management System)
Second language proficiency is preferred (French, Arabic or Russian desired for NESA region)
Experience with program operations, and have highly capable and proactive verbal and written communicator in multi-cultural context
Excellent interpersonal skills and cultural competency to build strong relationship with global stakeholders, and ability to perform with high level of autonomy and initiative
Strong analytical and strategic thinking skills.

Additional Information

WHAT ACT1 FEDERAL CAN OFFER YOU:

Medical/Dental/Vision Insurance
Company Paid Life and AD&D insurance
Company Paid Short-Term Disability
Health care flexible spending accounts
401K
Paid Time Off
Paid Holidays

https://act1federal.com/careers/
ACT1 Federal is an Equal Opportunity and Affirmative Action Employer. All qualified applicants will receive consideration for employment without regard to race, color, religion, sex, pregnancy, sexual orientation, gender identity, national origin, age, protected veteran status, or disability status.