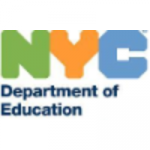 NYC Teaching Fellow
Become a Full-Time Teacher by Fall 2023. Apply to the NYC Teaching Fellows by 3/9/23!
Every student in New York City deserves an excellent teacher. The NYC Teaching Fellows is an alternative teacher certification program designed to provide training and support to aspiring teachers who dedicate themselves to raising student achievement and effecting change in New York City's highest-need schools.
NYC Teaching Fellows Training
The NYC Teaching Fellows provides aspiring teachers the opportunity to train full-time in a New York City public school for 6-7 weeks before becoming full-time teachers. During this summer pre-service training period, participants develop their teaching skills through hands-on experiences and 1:1 coaching with skilled Coaches and program staff.
Following summer training, program participants begin teaching full-time as salaried teachers in a New York City school. During the first 2-3 years of teaching, participants work towards earning their master's degree and applying for their initial New York State teacher certification to continue their career as New York City teachers.
Our 2023 cohort of Fellows will have the opportunity to train to teach subjects based on their experience and qualifications. These include math, science (biology, chemistry, earth science, physics), Bilingual Spanish, Spanish language, Mandarin, Russian, and special education.
Benefits of the NYC Teaching Fellows
Build the foundation of your teaching career through a supportive, practice-based training experience. NYC Teaching Fellows benefits include:
Stipend during pre-service training experience ($4500 total)
Starting salary of at least $61,070 and full NYC DOE benefits following the summer training experience (beginning in September 2023)
Heavily subsidized master's degree in education
Ongoing coaching and feedback
Opportunities to support future cohorts
Whom We Are Looking For
NYC Teaching Fellows teachers represent a wide range of personal and professional backgrounds. Our research on past cohorts shows that individuals who possess the following characteristics are more likely to succeed in the selection process and during pre-service training:
Prioritize student learning and hold high expectations for all students
Demonstrate the ability to succeed at challenges
Apply feedback to improve quickly in new situations
Possess a deep commitment to learning and self-improvement
Communicate clearly and persuasively to motivate others
Summarize complex topics in a concise and logical manner
Connect their past experiences to their desire to teach
Ultimately, all our Fellows unite around one idea – students of all backgrounds can excel.
Eligibility Requirements
Before applying to the NYC Teaching Fellows program, make sure that you meet the basic program eligibility requirements:
Bachelor's degree conferred by May 31, 2023
Minimum undergraduate GPA of 2.5*
Fluent in written and spoken English
Authorized to work in the United States, NYCTF does not sponsor candidates
Never been certified to teach or completed a program that would lead to certification in the U.S. or Puerto Rico
* You can learn more about program eligibility on our website: https://bit.ly/nyctf2023_site.
How to Apply
The final application deadline is March 23, 2023. For the best chance at having your application reviewed quickly, apply now: https://bit.ly/nyctf2023_apply
For step-by-step help with your application, review our Online Application Guide: https://bit.ly/nyctf_23_appguide
Learn more about our program on our website: https://bit.ly/nyctf2023_site
Check out our events page for upcoming and recorded webinars: https://bit.ly/nyctf_eventpg_LI
AN EQUAL-OPPORTUNITY EMPLOYER
It is the policy of the Department of Education of the City of New York to provide educational and employment opportunities without regard to race, color, religion, creed, ethnicity, national origin, alienage, citizenship status, age, marital status, partnership status, disability, sexual orientation, gender (sex), military status, prior record of arrest or conviction (except as permitted by law), predisposing genetic characteristics, or status as a victim of domestic violence, sexual offenses and stalking, and to maintain an environment free of harassment on any of the above-noted grounds, including sexual harassment or retaliation. Inquiries regarding compliance with this equal opportunity policy may be directed to the Office of Equal Opportunity, 65 Court Street, Room 1102, Brooklyn, New York 11201, or visit the OEO website at http://schools.nyc.gov/OEO
To apply for this job please visit bit.ly.