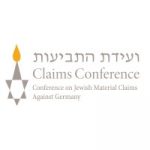 Manager of Payment Operations
Headquartered in New York with additional offices in Israel and Germany, the Claims Conference is a global, non-profit organization committed to providing a small measure of justice to Holocaust Survivors. Since our founding in 1951, the Claims Conference has secured more than $90 billion from the German government in indemnification for Survivors. For 2023, the Claims Conference will distribute approximately $625 million in direct compensation to over 260,000 survivors in 83 countries and allocate approximately $750 million in grants to over 300 social service agencies worldwide that provide vital services for Holocaust survivors, such as home care, food, and medicine.
Our Research, Education, and Documentation (RED) funds contribute toward global efforts to educate the public and preserve the memory of the Holocaust through teacher training programs, exhibitions, and films such as Son of Saul, an Academy Award winner for Best Foreign Film. At the Claims Conference, we honor history while making history.
We are looking for a full-time Manager of Payment Operations to join the finance department in our New York office. The ideal candidate has strong analytic, technical, and relationship-building skills, is highly observant, and is a self-starter. The candidate should have experience in banking operations.
Note: this is a hybrid position with a minimum of two days in the office. Russian fluency is required for this position.
Responsibilities:
This position will oversee survivor payment operations for the organization, helping ensure that compensation payments arrive to survivors and errors are identified and rectified in a timely manner;
Be the point person for questions and solutions to survivor compensation payments issues;
Ensure banking information is entered accurately and timely;
Monitor sanctions list against banks;
Communicate regularly with most active survivors' banks across globe;
Ensure survivor compensation payments and banking questions are answered timely and accurately;
Establish relationship with key bank vendor and work with that vendor on payment issues and delays;
Oversee survivor compensation processes and identify barriers and improvements on an ongoing basis;
Partner with our bank vendor on an ongoing basis to expedite compensation refunds and recognize banking errors that can be rectified;
Review banking information input process and identify process improvements;
Oversee payment teams in three countries and develop a cohesive team and processes;
Work closely with the Director, Data and Applications on compensation reporting, work flow, and payment processing; partner with Director on process improvements.
Qualifications:
Compassionate understanding of the nature and purpose of Claims Conference Allocations funds;
Bachelors Degree in business is desirable
5+ years in a position at bank working on similar issues;
Knowledge of banking processes, ACH, wire transfers, Swift and routing numbers
Strong written and verbal communications skills;
Russian fluency is required for this position;
Capacity to establish ongoing relationships with management and staff;
Excellent analytical and technical skills.
The Claims Conference offers generous benefits, opportunities for professional growth, and competitive salaries based on geographic location. Our target salary range for Manager of Payment Operations in the New York City market is $130,000 - $145,000. This salary range represents Claims Conference's good faith and reasonable estimate of the range of possible compensation for this role at the time of posting. The final salary for this role will be determined based on careful consideration of a variety of factors, such as the candidate's exact location, experience in similar roles, and expertise related to the qualifications. This information is offered in support of our commitment to transparency.
The Claims Conference is an equal opportunity employer and values diversity. We do not discriminate on the basis of any category protected by law, including (without limitation) race, religion, color, national origin, gender, sexual orientation, age, marital status, veteran status, or disability status.