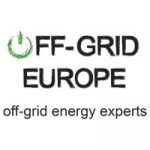 Junior Project Manager
About
Off-Grid Europe is a small, fast moving company owned and managed by Christiane Kragh (CEO) and Mark Kragh (CTO). We are a specialist in renewable energy systems, most notably custom containerized solutions for off-grid applications. During the past 5 years, we have built our own platform to interact with the devices in these systems in order to record and display data, configure settings and actively manage the "balance-of-system" during operation to optimize battery lifetime. We also have an office and solar installation base in Dakar Senegal, from where we serve our Senegalese and West African market, do R&D and other activities. So far, our systems have given about 150,000 people access to electricity for the first time.
We have a nice work environment at our Head Office in the countryside, close to the mountains where you can ski in the winter, swim in the lake in the summer, go sailing, cycling, running, walking, kite/wind-surfing, mountain climbing, and so much more. You could say, it's a bit off-grid but at the same time located in the middle of one of the biggest technical areas of innovation, where international companies set up offices exactly because of the location.
We love where we work and we have a great coffee machine!
Job description
We are looking for a super motivated and highly skilled Project Manager to play a vital role in the implementation of project leads and coordinate all aspects for a successful project start.
You will develop key client relationships whilst managing the coordination of a multi-faceted internal team of business developer, engineers, logistics, legal and project financing. Once the project is won, you will be managing its successful implementation.
Whilst the role is currently focused in the African market primarily, it may require working on potential projects across the globe.
Skills required
Fluency in 2 languages English + French
Engineer by education or strong track-record of real-life installation
Excellent Communication and interpersonal skills across varied cultures.
Ability to negotiate and resolve conflicts.
Excellent Time Management and Coordination skills.
Building commitment within the team.
Responsibilities
Responsible for the planning, procurement, execution and completion of agreed sales projects.
Experienced with ERP/ERM systems and project management management through these
Coordinating all aspects of implementation and installation of systems within the agreed timescale.
Negotiation and managing all contracting processes
Monitor project progress and set deadlines.
Solve any issues that arise to ensure that the project finishes on time.
Developing and maintaining meaningful relationships with internal and external stakeholders, to secure sales in line with an agreed plan.
Regular status updates with CEO and Clients.
We have a very clear vision for the future and with the right people, who have the same passion as us to bring renewable energy to the world / reduce CO2 and positively impact climate change,we can move faster towards our goal. Are you the person we've been waiting for?
If so, please write to recruitment@off-grid-europe.com with your CV and cover letter and tell us why you.
You can find us on:
www.youtube.com/offgrideurope
https://www.linkedin.com/jobs/view/3249279876
The Off-Grid Europe Team
To apply for this job please visit LinkedIn.