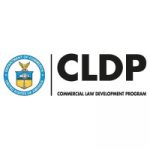 International Attorney-Advisor
Attorney-Advisor, Europe-Eurasia Team–
Commercial Law Development Program, U.S. Department of Commerce
Job Posting – September 2022
Employment Type – Full-time
About this position:
The Commercial Law Development Program (CLDP) of the Office of General Counsel, U.S. Department of Commerce, is seeking a person with exceptional analytical, organizational and interpersonal communication skills to join our outstanding team of international technical assistance attorneys.
CLDP's mission is commercial legal reform. CLDP helps developing countries improve the policy, legal, and regulatory conditions for doing sustainable business, thereby creating better economic opportunities for local entrepreneurs and American companies doing business overseas. CLDP provides training, advisory and consultative services to host country governments.
CLDP attorneys are the primary implementers for the Office of General Counsel's international development programs. In this position, you will consult with other agencies of the U.S. government and foreign government officials, assess development needs, and design and implement assistance programs. The major geographical focus of the programming will be in the Europe-Eurasia region. The attorney's work may require travel to countries throughout Eastern and Southeast Europe, but will focus primarily on the regions of the Caucasus and Balkans.
Qualifications/Key Requirements:
· Fluency in Albanian, Armenian, Azerbaijani, Bosnian-Serbo-Croatian (BSC), Georgian, Russianpreferredbut not required.
· Prior experience working in law firms or with foreign governments or international organizations is desirable.
· Must be a United States Citizen and registered for Selective Service if applicable (sss.gov).
· Must be able to verify active bar membership in good standing in at least one U.S. jurisdiction.
· Must be able to obtain a Secret clearance.
How to apply:
To be considered, please email a current resume, law school unofficial transcript (if selected an official transcript is required), and cover letter tonmena@doc.gov.
Application deadline: October 30, 2022
About CLDP
Established in 1992, CLDP is a division of the U.S. Department of Commerce that helps achieve U.S. foreign policy goals in developing and post-conflict countries through commercial legal reforms. CLDP's unique, government-to-government technical assistance draws upon highly-experienced regulators, experts, judges, policymakers, business leaders, and attorneys from both the public and private sectors to deliver results that make meaningful and lasting changes to the legal and business environments of our host countries.
To apply for this job please visit LinkedIn.