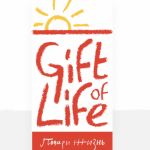 Fundraising & Event Manager
Term:
Permanent, full-time
Location:
UK. No central office, remote working only with minimum weekly team meetings in central London. Must be able to travel to central London for fundraising events and meetings on a regular basis.
Responsible to:
Head of Operations
Hours:
40 hours per week / Monday - Friday
Conditions:
Salary commensurate with experience / Generous holiday allowance / Flexible Working
BACKGROUND
Gift of Life is a UK-registered charity helping children beat cancer. It was established in 2011 as a sister charity to Russia's biggest foundation providing the most effective and modern medical care, and non-medical support to children and young adults with various forms of cancer, blood disorders and some other serious diseases. Since its inception Gift of Life has become a major UK charity saving children in Russian clinics, including young patients from former Soviet countries such as Kazakhstan, Moldova, Belarus, Ukraine, and Tajikistan. In 11 years, the charity has provided direct support to over 500 children with oncological diseases and education programmes for dozens of doctors and a whole lot more. This exciting role is new, and we are looking to appoint a dedicated, self-motivated, results oriented and creative-thinking fundraising and events manager who can demonstrate a real passion for fundraising and who can make a tangible contribution to increasing the Foundation's engagement with its donor base at and around the charity events.
OVERVIEW OF THE ROLE
Producing large- and small-scale fundraising events both online and in a physical format will be the primary focus of this position. Fundraising communications is a key component of this role as the successful applicant will have the responsibility for delivering the charity's Fundraising and Comms Strategy including its social media channels and donor engagement materials, particularly the ones for volunteer fundraising campaigns. A lot of our donors include members of the Russian-speaking community around the UK and Europe, so the candidate should demonstrate full professional proficiency in both Russian and English.
Fundraising and Events Manager
will be expected to handle a wide range of duties related to Gift of Life's charity events planning, implementation and supervision and work independently to insure coherent execution of fundraisers. They will also provide support to Head of Operations with 1-2-1 donor outreach to provide best donor experience and reinforce brand image of charity. The successful applicant should be exceptionally well organised, flexible, attentive to detail and exercising positive attitude towards the charity supporters, donors, volunteers. Excellent writing skills are a must, a degree in Communications, Journalism, Linguistics or Philosophy is desirable.
To apply for this role please send a CV and covering letter, demonstrating your expertise and how you meet the role requirements. This should be a minimum of 500 words and not exceed 2 pages. info@giftoflife.eu
MAIN RESPONSIBILITIES & COMPETENCES
Event Management
Responsible for the delivery of a high-quality annual portfolio of events that inspire, motivate, and develop support for the charity.
Conduct research on fundraising opportunities.
Project manage and deliver events from concept through to completion, ensuring that the agreed KPIs and ROI are achieved.
Develop funding proposals and submit these to potential corporate sponsors and individual donors for support
Liaise with and negotiate with suppliers to receive in-kind donations for events, ie; venue hire, production services, food, drink and entertainment, always seeking to keep our outgoings low and fundraising potential high.
Ensure that income potential from all fundraising activities is maximised, continuously seeking new opportunities.
Collaborate closely with colleagues in sister charities and organisations run by Trustees and Patrons of Gift of Life to attract talent and publicity to the fundraising events.
Lead guest management for all events
Lead volunteer management for events, including briefings, comms and motivation
Write, submit, and upload press releases as required.
Ensure that we are living up to the expectations of our sponsors and corporate donors around events and further-lasting partnerships.
Develop and submit reports to the Board of Trustees post each event.
Fundraising
Deliver the charity's Fundraising Strategy at/around the events, including invitations distribution, follow up and event-coordination.
Lead volunteer fundraising campaigns based on set KPIs, including communication with the volunteers, production of supporting POS materials and surrounding activities
Plan and manage innovative and creative activities with fundraisers.
Raise funds for our cause and regularly meet or surpass fundraising targets.
Coordinate on-the-day fundraising event management (welcoming guests, onsite payment collection, charity auction management, catering supervision etc.)
Maintain a database of supporters, donors and volunteers.
Monitor progress and impact of fundraising drives.
Communications
Share responsibility for Gift of Life social media channels, adapting relevant content for publication and engaging influencers.
Engage potential supporters and inform them about the charity's mission and work.
Provide support to the team in delivering the Comms strategy (copy adaptation, translations, newsletters creation).
Liaise with press to raise awareness of Gift of Life and its activities
General
Develop team spirit and co-operative working across internal and external teams.
Undertake any such additional duties that are reasonably commensurate with the level of this post.
Undertake/attend any training and/or meetings as required by the job role.
Promote a positive image of the Gift of Life and its programmes, working as part of an integrated team.
This job description is not intended to be an exhaustive list but to indicate the main responsibilities of the post. It will be reviewed periodically to take into account changes and developments in-service requirements. Any changes will be discussed fully with the jobholder.