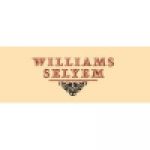 Estate Host
JOB DESCRIPTION
Williams Selyem Winery is looking to add a part-time Estate Host to our hospitality team.
We are an ultra-premium winery in the Russian River Valley appellation of Sonoma County, California producing hand-crafted, world-class Pinot Noir, Chardonnay, and Zinfandel. Our production is sold to a long-standing list of customers (direct-to-consumer).In 2010 the new Williams Selyem Estate Winery facility was opened for tours and tasting, by appointment only, to our list members.
ESSENTIAL DUTIES AND RESPONSIBILITIES
Provide a superior customer experience and solidify existing customer relationships through hospitality tours and tastings
Tasting Room sales to current customers during their visit to the estate winery
Order entry through POS system. Knowledge of Cultivate Systems a plus!
Working with the marketing team to establish new relationships through community outreach programs
Assistance at on-site winery events
Customer service via emailand telephone
Tasting Room inventory management and reporting
Marketing team support as needed
Special projects
Support Hospitality Manager as needed
QUALIFICATIONS
The ideal candidate will have a background in high-end wine and/or luxury goods sales. Must be passionate about wine, pay attention to detail and work well in a team setting. The hourly pay rate is based on experience and ranges from $24 - $28/hour. This position requires you to work a minimum of 3 - 4 days a week, including weekends and holidays.
To apply for this job please visit LinkedIn.