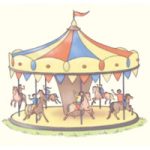 Early Childhood French, Spanish and Hebrew Teacher
Carousel of Languages has been an early childhood foreign language program for infants, toddlers, and young children since 2000. We currently teach 12 languages including Italian, French Spanish, Mandarin, Russian, Hebrew, Korean, Greek, English, Turkish, German, andHindi.
Carousel is hiring experienced and enthusiastic part-time French, Spanish, and Hebrewlanguage instructors to teach in person at our Upper East Side location.
Qualifications:
Native speaker
Must have the authorization to work in the U.S.
Preferred BA / MA in education
Must be an enthusiastic instructor capable of teaching young children
Provide a joyful learning experience in small group environments
Commit to a full academic year
Please provide the following information to info@carousellanguages.com
Resume
Brief 2-minute video clip demonstrating teaching activity in the target language
To apply for this job please visit LinkedIn.