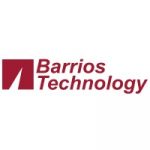 Daily Operations and Crew Support Video Producer
Our long-term client relationship with KBR has led to a need for a Daily Operations and Crew Support Video Producer on the Integrated Mission Operations Contract II (IMOC II) contract at Johnson Space Center (Houston, TX).
Building on more than four decades of experience in providing innovative integration solutions for government and commercial space programs, Barrios offers an extensive range of engineering, software, and related technology integration services in support of the aerospace community. As a woman-owned and operated small business, we are a people-focused company that supports professional development, while working to ensure that you maintain a healthy work-life balance.
Barrios employees actively participate in the growth of the commercial spaceflight industry through our partnerships with companies leading commercial space development, as well as successfully supporting NASA as our primary government customer. Our long history supporting Low Earth Orbit (LEO) on the International Space Station, and now Commercial LEO, lays the groundwork for future missions to the Moon through our work on Orion, Gateway, and the Space Launch System.
The Daily Operations And Crew Support Video Producer Will
Conceptualize and produce videos for training and operations for the Daily Operations and Crew Support Group Learning Lab at NASA's Johnson Space Center, the International Space Station (ISS), Orion, Gateway, and other human exploration programs as required.
Record lessons, trouble-shoot camera/video related hardware, create Just-In-Time (JIT) training for the astronauts living and working on the ISS and other human rated vehicles.
Support all aspects of video production, from concept to completion, including storyboarding, scripting, interviewing, videography, photography, post-production, and delivery including but not limited to:
Using the latest audio mixing and video switching technology equipment and Adobe software to capture and edit electronic media.
Leading projects from conception to completion
Recording technical classes and other training events for astronauts, internal technical staff, and other external customers
Editing video footage into completed video products
Maintaining a database of video footage and edited programs
Checking out and tracking video equipment to other group members
Writing scripts, procedures, and internal group documentation
Helping to manage property, procurement, and product requests
Performing camera lighting and operations
Developing storyboards
Troubleshooting software and hardware problems
Keeping up with IT and technology changes to identify needed upgrades to infrastructure and classroom equipment.
Supporting technical meetings as needed
Perform other duties as required.
Required Education/Experience/Skills
Bachelor's degree in IT, Communications, Multi Media (i.e. radio, television, film, animation, interactive media, TV/Web journalism, digital communications, multimedia communications) or related field, plus five (5) years of relevant experience.
Must have prior video production experience, including operating professional video cameras and related equipment, operating professional audio production equipment, basic knowledge of video editing systems and concepts.
Must also be able to configure and perform basic troubleshooting on classroom live recording and presentation equipment.
Must have knowledge of Windows-based packages, such as Microsoft Office and Mac OS platform for video editing.
Must have the capacity to balance multiple projects under deadline constraints and to manage projects gracefully under pressure.
Specific Hardware and Software Experience Needed for the Position:
Prior experience operating professional camera equipment is required.
Familiarity with Audio equipment is required.
Adobe Premiere Pro is required.
Candidate must be a self-starter who excels in a dynamic environment that requires him/her to work effectively both alone or as part of a team.
Must be team-focused and able to adapt quickly to a highly collaborative efforts across multiple organizations
Experience integrating across multiple areas, leading teams, negotiating win-win solutions, working well in the team environment, and customer service is required.
Attention to detail, excellent organizational skills, and strict adherence to deadlines is required along with the ability to successfully work/negotiate on a daily basis with multiple customers.
Must have excellent verbal and written communication skills.
Excellent interpersonal, leadership, teamwork, technical, and administrative skills are mandatory.
Must have a demonstrated ability to plan, lead, and coordinate a wide range of tasks.
May require work on nights, weekends, and holidays.
Must be able to support infrequent travel domestically or internationally.
Preferences
Specific experience with Sony cameras is preferred
Specific Hardware and Software Experience Preferred for the Position
Adobe Creative Suite (Highly Desired)
Switchers and remote-controlled PTZ Camera Operating Systems (Desired)
Knowledge of Apple computer and operating systems (Desired)
Camtasia (Desired)
Experience with SharePoint/Box or similar (Desired)
Experience with SharePoint/Box or similar (Desired)
Strawberry Project Asset Manager (PAM) (Nice to have)
Russian, Japanese, or European language skills are a plus.
Essential Requirements
Must be a U.S. Citizen and successfully complete a U.S. government background investigation.
Post offer applicants and employees are subject to testing for marijuana, cocaine, opioids, amphetamines, PCP, and alcohol as outlined in our Drug Free Workplace policy.
Applicant selected may be subject to government security investigation and must meet eligibility requirements for access to classified information.
Work may involve sitting for extended periods.
May require lifting and carrying up to 25 lb.
Must have sufficient mobility to enter areas of test facilities where necessary.
Generally an office environment, but can involve inside or outside work depending on task.
Standard office equipment (PC, telephone, fax, etc.)
Regular attendance in accordance with established work schedule is critical.
Ability to work outside normal schedule and adjust schedule to meet peak periods and surge requirements when required.
Must be able to work in a team atmosphere.
Must put forward a professional behavior that enhances productivity and promotes teamwork and cooperation.
Grooming and dress must be appropriate for the position and must not impose a safety risk/hazard to the employee or others.
This position may require some commuting and traveling to other installations as needed.
Don't miss out on this great opportunity; for immediate consideration, apply now!
Barrios Technology is a drug-free workplace, which is imperative to the health and safety of all employees and is required as a condition of receiving contracts from federal agencies. Please remember that regardless of the legalization of marijuana in several states, possession and use continues to be illegal under the federal Controlled Substances Act. This includes the use of some CBD products. A post-offer, pre-employment drug test is a condition of employment.
Barrios Technology is an Equal Employment Employer. All qualified applicants will receive consideration for employment without regard to race, color, religion, disability, sex, sexual orientation, gender identity or expression, age, national origin, veteran status, genetic information, union status and/or beliefs, or any other characteristic protected by federal, state, or local law.
Job ID: 2023-2293
External Company URL: http://www.barrios.com/
Street: JSC