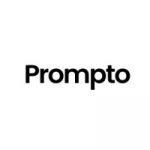 Creative Project Coordinator
About Prompto
At Prompto we're on a quest to become the most trusted, data-driven real estate marketplace in Europe.
🏡
We're convinced that trust rules the world. It is the foundation of every real estate deal. That's why we're striving to play a role in making every real estate transaction 100% transparent for everyone. With Prompto, we help our customers centralize their real estate and stakeholders in one sexy platform that helps them sell, rent and manage real estate with more fun! 🚀
What challenge is waiting for you?
Our Creative team is on the lookout for a talented new team member to help bring some pizzazz to our 3D projects in the real estate realm. As the master coordinator of these projects, you'll be the go-to person for our clients, guiding them through the entire visualization process and making sure everything goes off without a hitch.💯
What can you bring to the table?
You'll be the glue that holds our team of artists together, ensuring everyone is on the same page and working towards a common goal. When obstacles arise (as they always do), you'll be the problem-solving hero 🦸 who swoops in to save the day and keep everyone informed.
We're looking for a rockstar with a Bachelor's/Master's degree in communication sciences or interior design to join our team and help us take our projects to the next level and meet the ever-evolving needs of our clients.😎 Fluent communication skills in Dutch and English are a must-have, and if you also happen to speak German or Russian/Ukrainian, that's a huge plus!
But that's not all – we want someone who brings fresh, innovative ideas to the table. We need a creative thinker who can push the boundaries and think outside the box in real estate visualization. Your ability to lead and elevate projects to new levels will be critical in meeting the ever-evolving needs of our clients.
So if you're ready to join a dynamic team of creative minds and bring some serious flair to the world of real estate, we want to hear from you! 🫵
Except for the challenge, what else can you expect?
You can expect a salary 💶 added with extra legal benefits like meal vouchers, hospital insurance, a Cafeteria plan, and much more. Since a salary just isn't enough, we promise you a team where everybody chips in and gives their all. We're not just there to help with the work, we'll also be there to celebrate successes together! 🎉
Apply now and let us succeed together! 🌟
(Beware, only qualified candidates will be contacted for a job interview)