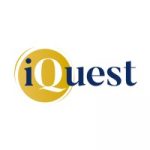 Commercial Sales Manager
Location:Dublin 2, Ireland (Happy to consider remote working if you can attend Dublin events/meetings)
Salary:OTE of €60K++
iQuest & Business Post LIVE is recruiting for a Commercial Sales Manager to work across the company's expanding events and trade publishing portfolio. This is an exciting opportunity to join a dynamic and growing media business; as well as become a part of the larger Business Post Group family of brands.
The successful candidate will be responsible for proactively identifying, pursuing and acquiring new business. This will be in the form of both sponsorship and media sales across the range of trade publishing titles, conferences, exhibitions and awards programmes, as part of iQuest & Business Post LIVE's sales strategy.
DUTIES/RESPONSIBILITIES:
Develop and implement a direct sales strategy for prospective business:
Initiate, create and execute a new business sales strategy across a range of publications and events, within the boundaries set by iQuest's overall business and commercial strategies.
Work with the Operations and Production Directors to ensure congruency between the event/publication planning and the proposed commercial offering.
Lead the prospective/new customer acquisition process from 'lead to close':
Proactively establish and build relationships with decision makers, up to C-suite level, at prospective and newly acquired customers, directly or through leads generated by marketing, business development or partner channels.
Actively use LinkedIn/structured social media campaigns, traditional 'cold calling', and prepare for and attend appropriate local industry events to gain appointments, build relationships and increase awareness of iQuest's value proposition.
Identify, qualify, pursue (design and propose), negotiate and profitably close new business, in close collaboration with management and operations teams.
Conduct contract negotiations within own delegated authority and predefined ranges/guidelines.
Support immediate post-sales activities as a primary customer contact:
Direct, oversee and support immediate post-sale activity to ensure continuity and satisfactory customer onboarding.
Hand-over relevant elements to the operations team, while continuing to manage the customer's account throughout the event activation/publication process.
Ensure proper information maintenance in CRM:
Maintain up to date and accurate information on all customer and sales activity on CRM.
Manage opportunities in compliance with sales processes and policies and sales standards of performance.
Assume other special projects/assignments as directed by the CEO.
ESSENTIAL KNOWLEDGE & COMPETENCIES REQUIRED:
Pro-active attitude, can do mentality, can thrive on a relatively "high rejection/low hit rate" ratio.
Ability to self-start, self-motivate, self-sustain, self-improve and work independently.
Excellent solution/consultative selling skills, proven ability to articulate clear value propositions.
Excellent negotiation skills, high contract closing ability.
Excellent interpersonal and communication skills (at different business levels).
Customer/business focus - Eager to win, create new business and achieve high customer engagement (true/pure "hunter" type), multi-level seller and relationship builder, negotiation skills (creative in solutions while protecting the company's interest).
Excellent relationship skills with external (customer) and internal (own organisation)
Collaborative personality, have sense for informal structures.
Can balance the individual and group interest.
QUALIFICATIONS:
Minimum of 3 years of experience in a consultative selling area.
Broad business network and contact database.
Good understanding of Microsoft office applications.
Good team-working skills.
Fluent in English.
Full driving license is preferential but not essential.
To be considered for this role, please send a copy of your CV along with a cover letter tosmurphy@businesspost.ie
To apply for this job please visit LinkedIn.