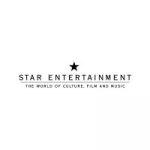 Commercial Clerk / Office Administrator
Star Entertainment is looking for a Commercial Clerk / Office Administrator, the ideal candidate will be in charge of the organization and efficiency of daily office operations. From scheduling client meetings, to communicating between departments, you will be responsible for completing multi-level tasks in a professional and timely manner.
About Star Entertainment:
Star Entertainment is an international production company, operating since 1999 in the fields of film, live entertainment, culture and philanthropy. In the area of film, Star started with minor investments in "Shaft" and "Mission Impossible II" and has produced films with the likes of Richard Curtis and Oscar-wining talent. Václav Havel honored "Letter to Anna" about the murdered Russian journalist Anna Politkovskaja.
Responsibilities
Manage the reception area and staff to ensure effective communication both internally and externally
Provide office guests with a hospitable experience
Supervise the maintenance of office areas, equipment, and facilities
Interact with IT, phone and building personnel as needed
Qualifications
Proficiency in Microsoft Office suite (Outlook, Excel, Word, PowerPoint, etc.)
Excellent written and verbal communication skills
Ability to multi-task, organize, and prioritize work
To apply for this job please visit LinkedIn.