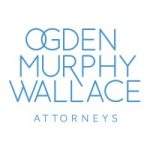 Associate Attorney
AssociateAttorney – Wenatchee
Ogden Murphy Wallace, P.L.L.C. seeks an attorney to support our diverse practice in Wenatchee.If you are looking for an opportunity to work within a friendly and professional environment and have experience in the areas of real estate, construction, commercial, business, personal injury, employment, and/or trust and estates, this is a great firm to join.
OMW is looking for an associate attorney who is:
Dependable. Consistently able to work collaboratively and provide support within a team dynamic, yet succeed independently.
An Excellent Communicator. Possess strong verbal and written communication skills.
Motivated. Intellectually curious with a passion for learning and growth.
Ogden Murphy Wallace is committed to providing an inclusive and welcoming environment for all members of our staff, vendors and clients. OMW is an Equal Opportunity employer and does not discriminate on the basis of race, color, religion, sex, sexual orientation, gender identity, marital status, age, national origin, genetic information, veteran status, disability status or any other category prohibited by local, state or federal law. This policy applies to all aspects of employment, including recruitment, placement, promotion, transfer, demotion, compensation, benefits, social and recreational activities, termination, and all other terms and conditions of employment.
We offer a competitive benefits package including medical, dental, vision, 401(k) and profit sharing plan, paid time off, paid family leave, life insurance, and long-term disability coverage. We encourage professional development by providing programs, training, and opportunities to do interesting work.
All applicants must be an active member of the Washington State Bar.For consideration, please submit your cover letter and resume to Shari Tipp at stipp@omwlaw.com. We look forward to hearing from you!
To apply for this job please visit LinkedIn.