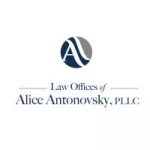 Associate Attorney
We are looking for an associate attorney to join our boutique firm, which, for the last 15 years, has been providing unparalleled immigration services to individuals all over the world in making their American Dream come true. We are looking for a driven and experienced immigration attorney to join our growing team. If you meet the criteria below and if you are looking for an opportunity to work for a small, yet very driven, fast paced and constantly growing law firm, we urge you to apply.
Responsibilities: Work on an array of cases including- adjustment of status, applications for asylum and withholding of removal, cancellation of removal, Special Immigrant Juvenile Petitions, VAWA petitions; I-601 and I-601A Waivers; Assess cases to create and propose strategies; Work with clients to draft and prepare affidavits, applications for relief, advise of additional necessary evidence and/or witnesses that are needed or may be helpful to their case; Prepare clients for interviews (adjustment of status, asylum, naturalization) and attend said interviews with clients; Represent clients in removal proceedings before immigration court; conduct legal research and prepare motions, memorandums and briefs as may be required.
Qualifications:
2+ years Immigration law experience;
JD Degree
Active Member of NY State Bar
Fluent in Russian (both written and spoken)
Strong interpersonal client relationship skills; very strong writing skills; must be willing to work independently and as a team; meticulous and detail oriented; be able and ready to work under pressure and handle a significant case load and meet deadlines.
Applications are considered on a rolling basis and the position will close once filled. Salary range is $72,500-85,000 and commensurate with experience. To apply, please email Resume AND cover letter with salary requirements to alice@aantlaw.com.
To apply for this job please visit LinkedIn.