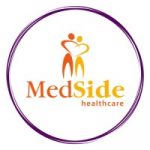 Administrative Assistant – BILINGUAL PREFERRED (Russian)
Our Company


MedSide Healthcare is committed to providing superior in-home care through a wide range of services including skilled nursing, rehabilitation, medical social services, personal support and homemaker services to our patients in their homes. The primary goal of MedSide's management and staff is to provide these services in a way which optimizes the dignity and independence of all of our patients. The growth of our company can be attributed to our employees' knowledge, skill and commitment to providing outstanding patient care and customer service.
Now is the time for you to be involved in the care of our patients and the exciting expansion of our company!


Job Description


The administrative assistant position performs a wide range of administrative and office support activities for the department and/or supervisors to facilitate the efficient operations of the organization.
Job Duties

Review submitted information for completion, correctness and transferring data into system
Efficiently and effectively update and maintain the internal system for electronic clinical records
Perform general clerical duties to that may include: photocopying, faxing, mailing, and filing
Answering a multi-line phone and greeting visitors to the office
Maintain confidentiality in all aspects in accordance to regulatory laws
Other task assignments

Job Specifications

BILINGUAL PREFERRED (RUSSIAN AND ENGLISH)
Excellent communication skills
No experience needed in field
Knowledge of basic computer systems
Be flexible and eager to learn new things

Preferred Specifications

Healthcare and/or customer service experience a plus

Other

Full-time
Eligible for Employee Benefits